Restaurant Mili vrh is a family restaurant, where we offer genuine local and traditional Slovenian cuisine.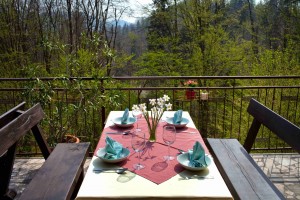 We have several house dishes such as steak with mushrooms and cottage cheese dumplings or a delicious Sunday roast with roast potatoes.
In addition we offer a selection of seasonal dishes, including vegetarian and vegan.
On the weekends we await you with delicious Sunday roast and during the week we prepare several soups and other dishes which can be available as takeaway (In the areas of Kamnik and surroundings) or set them up for collection.
All our dishes are prepared "at the old fire" (firewood stove) with carefully chosen ingredients and are cooked with love.
To learn about our local food our house Chef offers cooking classes (by prior arrangement).
The ambient of our restaurant is classic, rustic and very simple. It is suitable for birthday parties, small weddings and other opportunities. Large room can accommodate 40 people and the small room 20 people and the area around the bar 15 people. Please keep in mind that booking large groups needs to be done in advance.
Welcome!